Let's support our Brooklyn eateries and small businesses.

They are integral to the heart and soul of Brooklyn. Many helped us in our Tastes of Brooklyn events. Let's thank them.

Order. Take-out. Tip. Be generous.

Join our Summer Food and Drink Crawl from Prospect to Crown Heights.

Support local and help the charity, Seeds in the Middle, build farm stands in Brooklyn's food deserts so everyone has equal access to fruits and vegetables

Buy tickets here or just donate if you can't come


EAT DRINK DO GOOD
Over the past year, we have been eating and sipping and doing good across Brooklyn, walking and exploring new culinary gems in Tastes of Brooklyn food and drink crawls.
Now, in this time of uncertainty with the Coronavirus, restaurants and bars can no longer operate as they once did. We want to show gratitude. So, we've created interactive maps to show you who's open for take-out and delivery.
We were touched and thrilled by the enthusiastic warmth and success of our first pandemic food and drink crawl on Aug. 1st, the Tastes of Gowanus to Carroll Gardens. Volunteers made sure everyone wore masks and kept distancing and ticket-buyers were super-considerate so everyone could enjoy and support our small businesses. Now, we're trying our first fall event - Tastes of Prospect to Crown Heights. We're extending hours 12-8 pm so everyone can discover culinary gems from Washington Avenue to Franklin Avenue and nearby
Try delicious food, cocktails, wine and other culinary treats on the go! Thank you, Brooklyn Chamber of Commerce, for the free masks and Barrow's Intense Ginger for free hand sanitizers. We have some left from Tastes of Gowanus to Carroll Gardens! Let's enjoy and be safe together and apart with social distancing.
Be a culinary explorer again. Let's boost businesses and healthy kids together. Keep Brooklyn strong!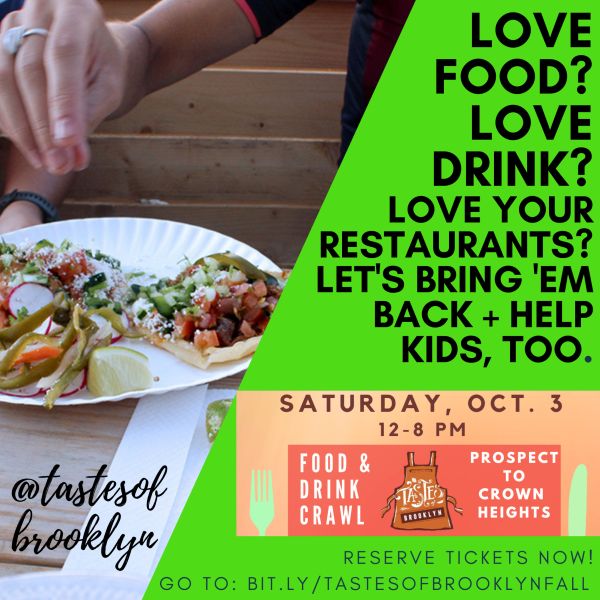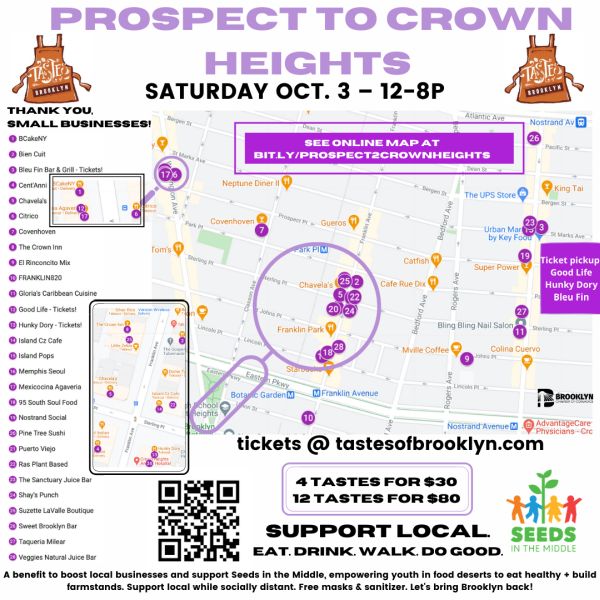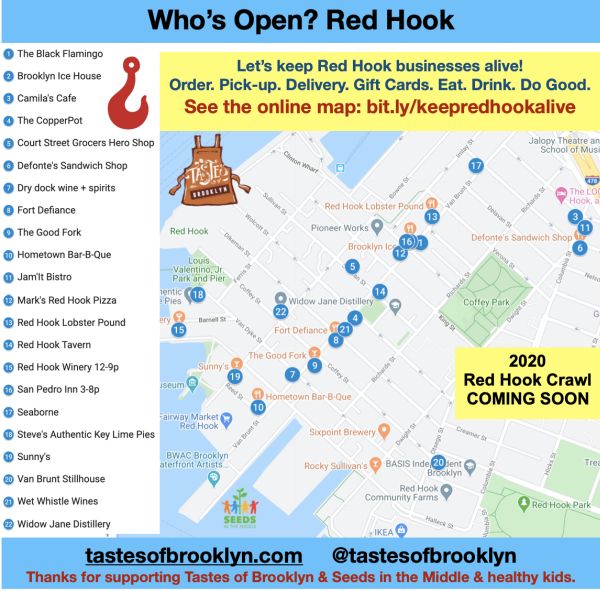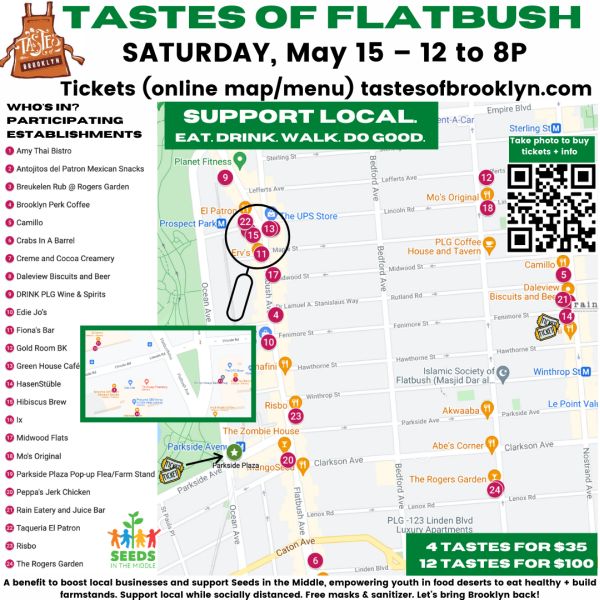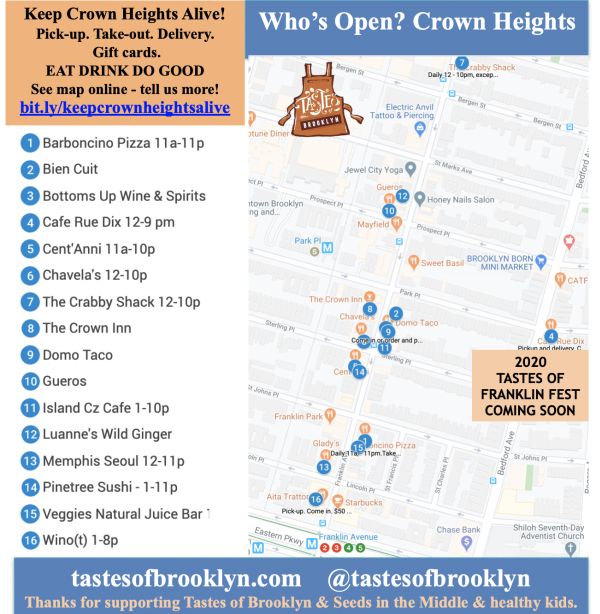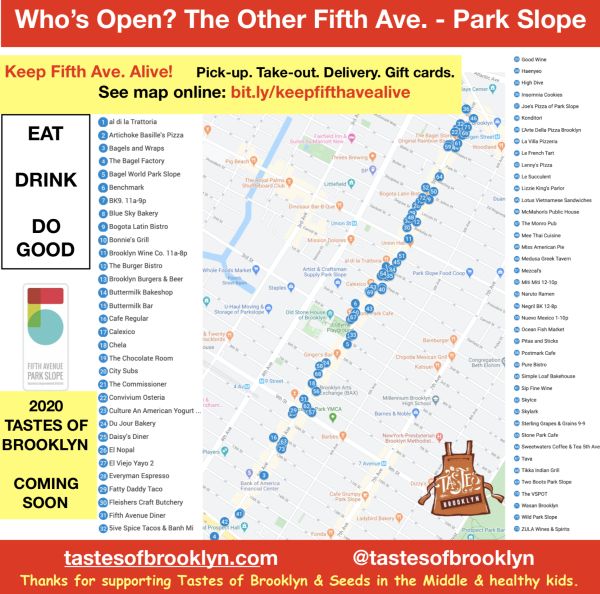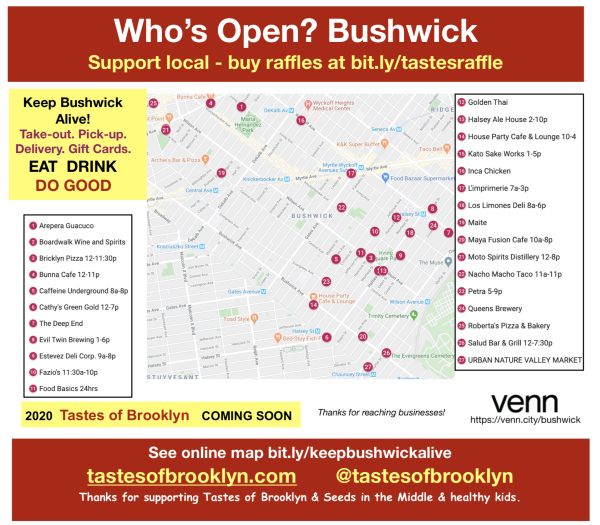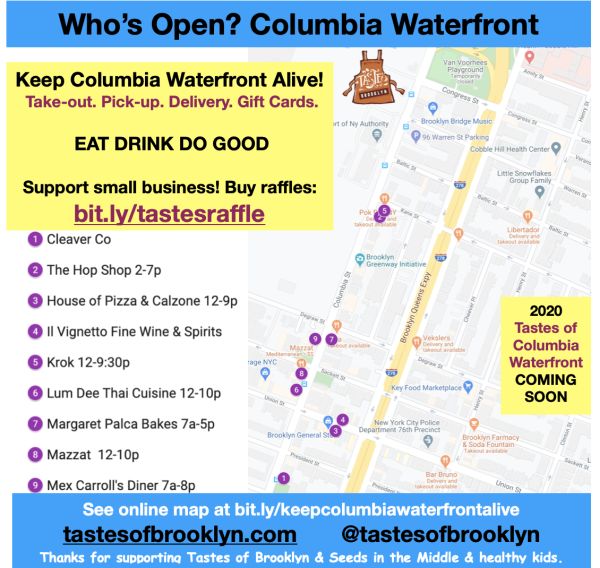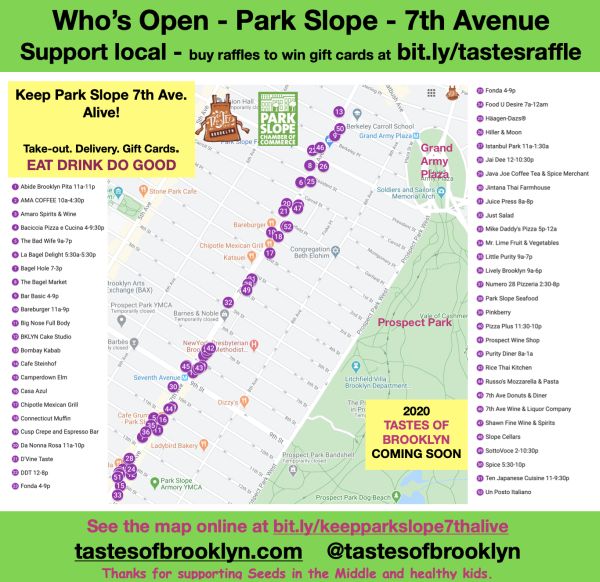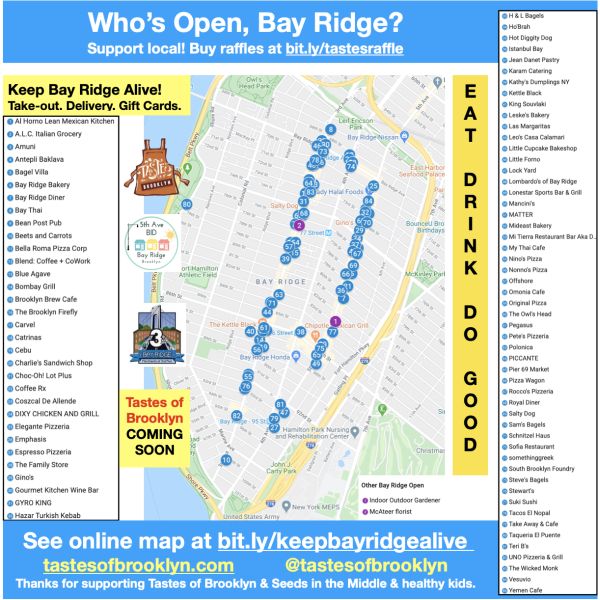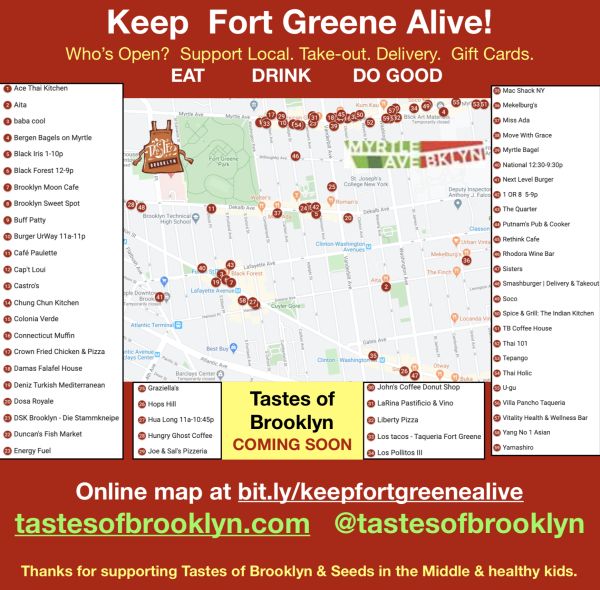 See online map here.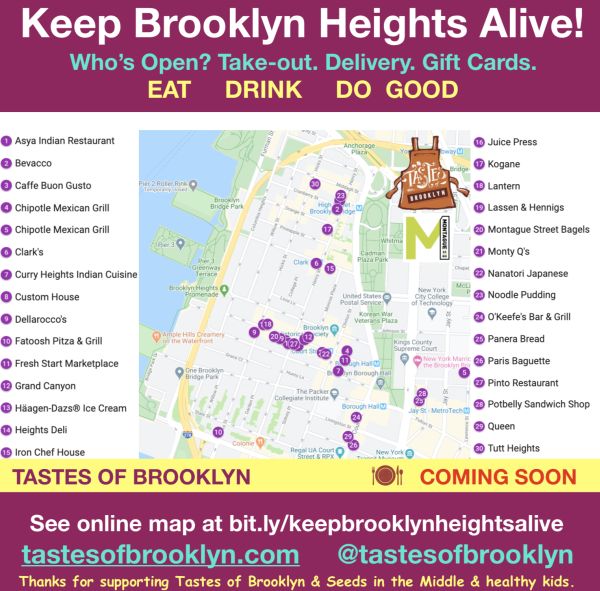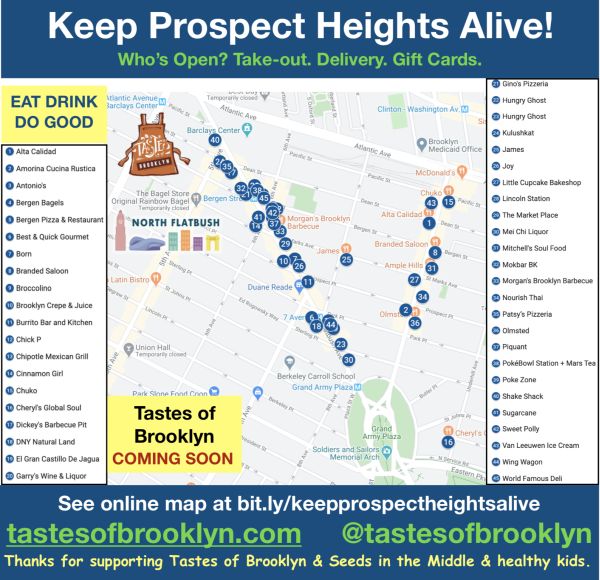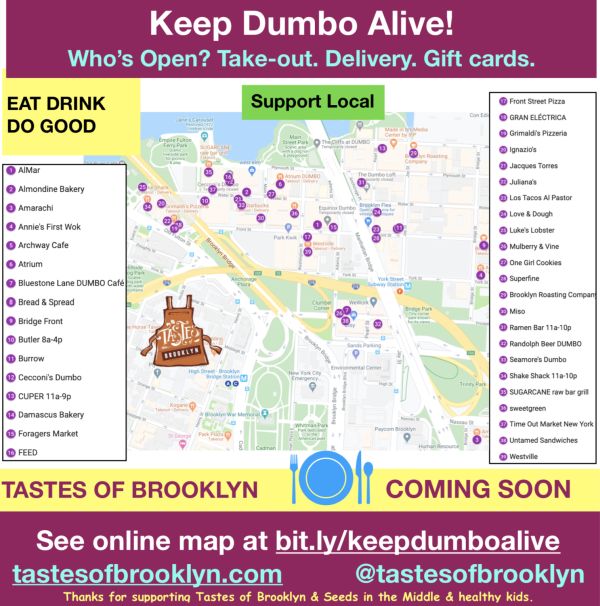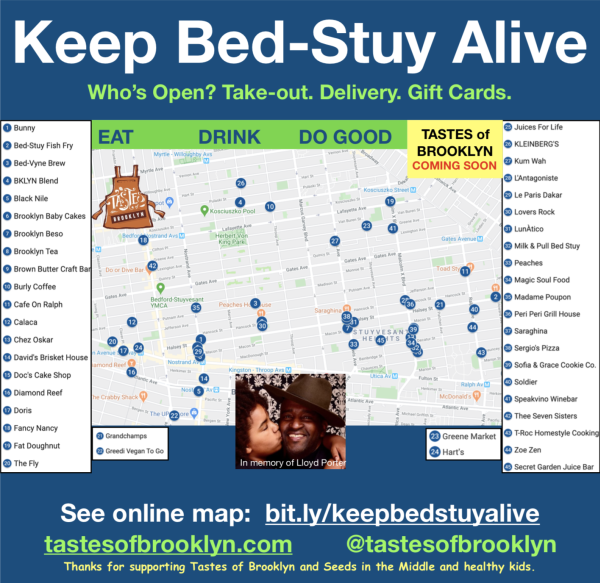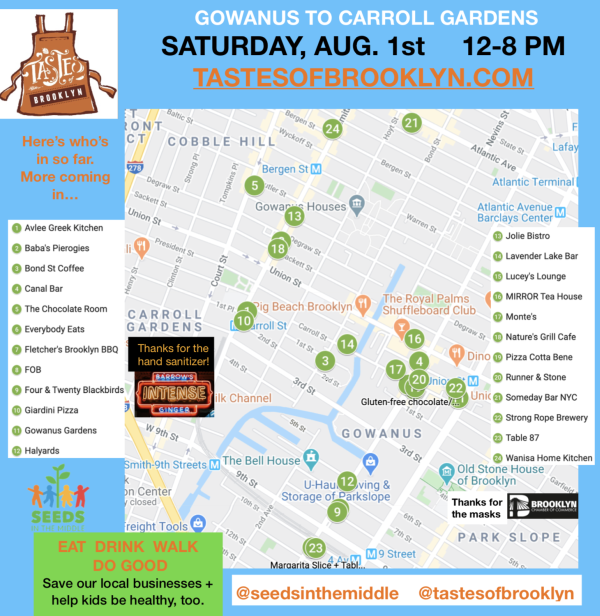 More maps to come
All our events support Seeds in the Middle. We are still setting dates for 2020 given current events. But you can reserve tickets now. Proceeds will go right to our efforts to deliver fresh fruits and vegetables to youth and families in food deserts in central Brooklyn during the city's social distancing and school closures. Please donate now to help us help others.

Tastes of Brooklyn and Seeds in the Middle are proud to support local - keeping alive the vibrant small businesses that make NYC such a rich place to live. They give to us and we support them. Thanks to the restaurants, bars, chefs, food establishments, distillers, foodies, artists and vendors who are making Tastes of Brooklyn crawls rock! Follow us on Instagram and Facebook to get updates or get on our email list at tastesofbk@seedsinthemiddle.org.

Enjoy an excerpt of past Tastes of Brooklyn events.

Tastes of Brooklyn from DigitalTechCINEMA on Vimeo.
Tastes of Prospect to Crown Heights
Saturday, Oct. 3 12-8 PM Meanwhile...
Let's keep our food places alive! See who's open below! Who's serving Oct. 3rd? Who's Open Now? Order food! Take-out. Delivery. See online maps Check out our past events!
Stay updated! Like us on Facebook here or IG here
tastesofbrooklyn.com

Instagram @tastesofbrooklyn
Twitter: @tastesofbk
Contact Us
All Tastes of Brooklyn events support Seeds in the Middle, a charity empowering students, schools and their communities in food deserts to create affordable, nearby access to fresh fruits and vegetables and healthy choices. Seeds in the Middle on Facebook here and Instagram. Can;t come? You can still give.