Join our delicious Tastes of Brooklyn events this spring and summer. Thanks to everyone who took part in our premiere Tastes of Gowanus on April 13 and our popular Carroll Gardens-Cobble Hill Crawl on May 4th. They totally rocked!
Next, let's go to Crown Heights in central Brooklyn for the first-ever Tastes of Franklin Festival, just blocks from the Brooklyn Museum and Brooklyn Botanic Garden. Take a stroll along Franklin Avenue and explore fine cuisine and cocktails in historic, trendy and culturally-rich Crown Heights, north of Eastern Parkway, right at the 2/3/4/5 and S trains at Franklin.Kids! Families! Join the Block Party between Park and Sterling Places from 8 am to 6 pm with free soccer, tennis, music and more. Performers welcome! And don't miss the Crow Hill Crafts Fair at Franklin/Sterling, 12-6 pm
We're proud to partner with Brooklyn Celebrity and the Crow Hill Community Association for phenomenal cuisine and free community fun and flea.
Join the event on Facebook here!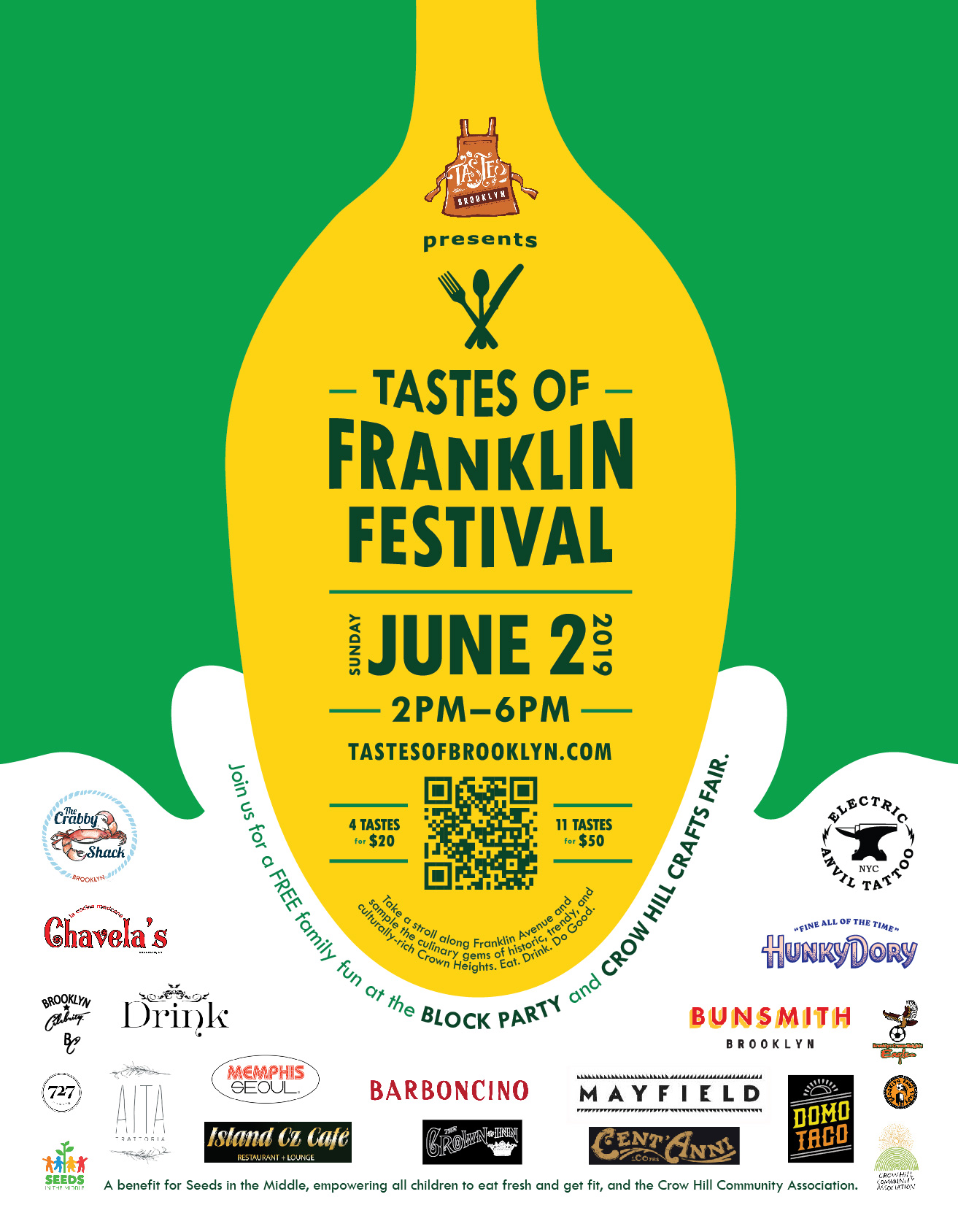 See some clips from our Fall Crawl 2017:
Tastes of Brooklyn from DigitalTechCINEMA on Vimeo.
Eat. Drink. Do Good.
Founded by local food establishments and Seeds in the Middle, the Tastes of Brooklyn promotes local culinary talent along with supporting youth in underserved Brooklyn's food deserts so they can create healthy places to live and learn. We are proud to support and promote Brooklyn's small businesses and food entrepreneurs from around the world in Brooklyn - both the old and new.
Family-friendly, kid-friendly, dog-friendly.
Guest chefs welcome!Contact tastesofbrooklyn@gmail.com for information.
A special thanks to all who took part in our Carroll Gardens-Cobble Hill Crawls 2016, 2017, 2018, and our inaugural event on October 20, 2016!
Tastes of Franklin Festival
Crown Heights!
Sunday, June 2nd, 2-6 pm
Participants:
Tickets will also be on sale at Barboncino Pizza, and Drink
Past Events:
Carroll Gardens-Cobble Hill Spring Crawl, Saturday, May 4
Taste of Gowanus Saturday, April 13
Thanks to all of our participants this spring for phenomenal culinary festivals. More to come!
---
Contact Us
---
Have kids who love to cook?
Enjoy Tastes of Brooklyn pop-up cooking classes. Go around the world with us and cook in Spanish, French and more. Email us at tastesofbrooklyn@gmail.com for info!