Thanks, Brooklyn! We have been eating and drinking and doing good all over Brooklyn this fall - first Columbia Waterfront, then Carroll Gardens-Cobble Hill, Flatbush and then Franklin Avenue, Crown Heights. Now, join us for our first-ever Tastes of Brooklyn Holiday Crawl on Sunday, Dec. 15, 2-6 pm, exploring the culinary gems of Gowanus to Cobble Hill to Boerum Hill to downtown Brooklyn. If you have missed our other events, here's another chance to check out sumptuous Brooklyn food and drink! It's right before the winter holidays, so you can sample these fantastic establishments and decide where to bring family and friends visiting over the holidays! We're super-excited about the Holiday Crawl because it's the same day as two other fun fundraisers that spotlight Brooklyn talent. Our first Run2B Healthy Walk/Run for Fresh Food starts at IX Restaurant, 43 Lincoln Road, in Flatbush (free coffee, fresh OJ) and ends at the Gowanus Holiday Flea at the Gowanus Dredgers Boathouse - where you can also try great food, smoothies, fresh juices, drinks and shop unique gifts. Free drinks for adult runners and medals and healthy treats for kids!
Join us this December.
Gowanus Holiday Flea - Saturdays and Sundays until Dec. 22.
December 15th Delicious and Fit Fun! See map here. More info coming. We are proud to support local - keeping alive the vibrant small businesses that make NYC such a rich place to live. Fun for all ages. Dogs welcome, too! Many thanks to all the talented, generous Brooklyn restaurants, bars, bakeries, distillers, foodies, artists and vendors who are making our Tastes of Brooklyn crawls rock! Follow us on social media or get on our email list at tastesofbk@seedsinthemiddle.org
Join the Tastes of Brooklyn Holiday Crawl on Facebook here
Join the Run2B Healthy Fun Walk/Run for Fresh Food on Facebook here
Check out the Gowanus Holiday Flea on Facebook here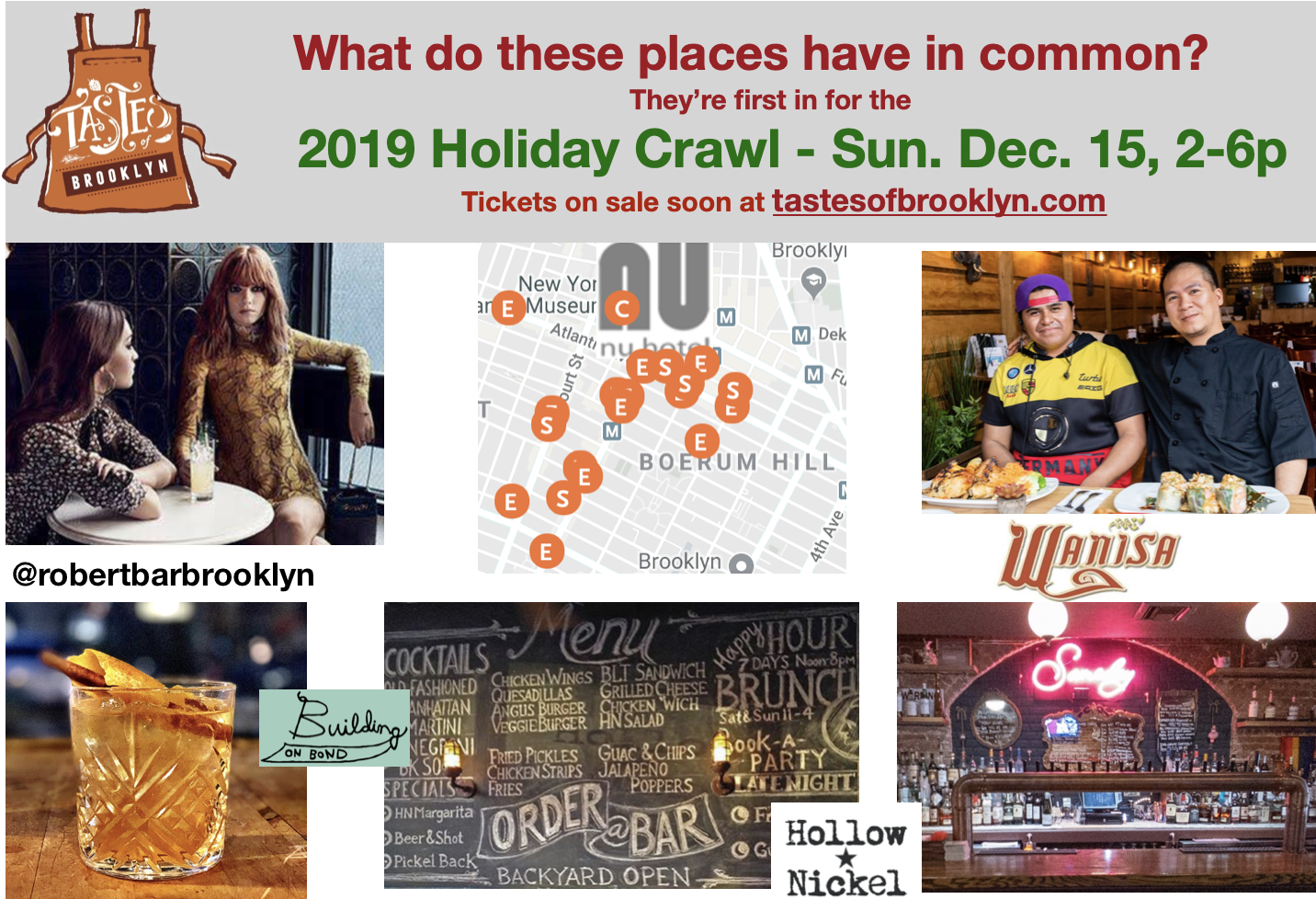 Holiday Food & Drink Crawl
Sunday, Dec. 15th
2-6 pm
Participants so far:
Run/Walk for Fresh Food
Sunday, Dec. 15, 11 am
Gowanus Holiday Flea
Weekends, Dec. 7-22
12-4:30 pm
Participants so far:
Check out our past events!
---
Contact Us
Love to Paint N Sip?
Come to Carroll Gardens and Gowanus. Relax and let your creative juices flow. Paint, led by talented local artists. Free drink and supplies included. Email us for details.

Have kids who love to cook?
Enjoy Tastes of Brooklyn pop-up cooking classes. Go around the world with us and cook in Spanish, French and more. Email us at tastesofbrooklyn@gmail.com for info!