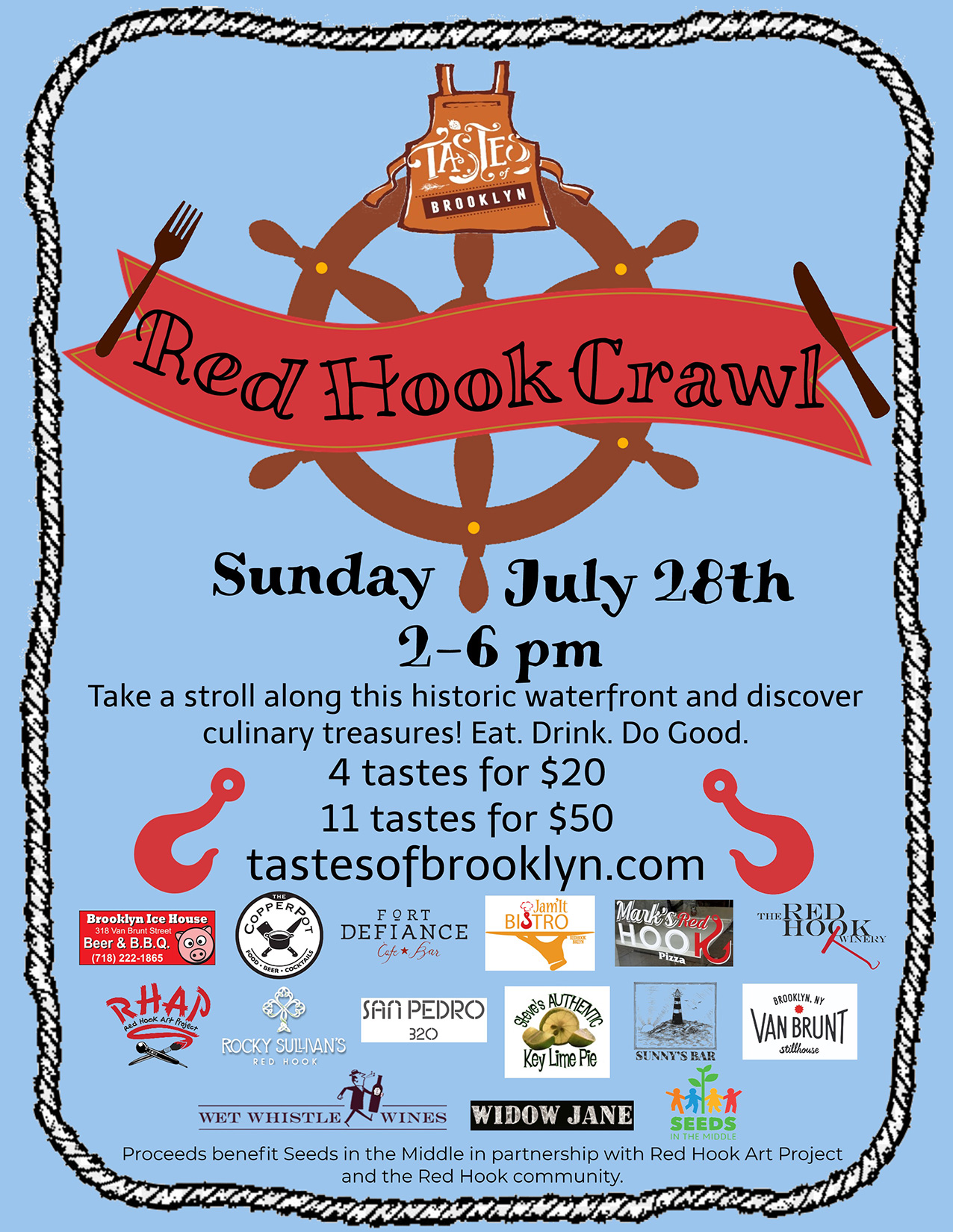 Welcome to the Red Hook Crawl!
Join us for our first-ever Red Hook Food and Drink Crawl, along the historic waterfront south of Carroll Gardens, featuring stunning views of the Statue of Liberty. Take a stroll or even bicycle along the East River at Van Brunt, Van Dyke and nearby streets. Take a ferry ride to Ikea or the NYC Ferry from Dumbo or Wall Street. Families! Stay tuned for free activities for kids - like soccer, art and a scavenger/treasure hunt. Dogs welcome, too!
Here's the info you need to know!
First: Buy Tickets Here!
Pick up your ticket at our Red Hook on-call table in front of Bene's Record Shop & Cora Dance at 360 Van Brunt Street.
See the event map here: bit.ly/redhookcrawlmap
Locations: Van Brunt and Van Dyke Streets and surroundings near the waterfront.
When: Sunday, July 28, 2019 from 2-6 pm, plus free soccer on PS 15 playground, a scavenger hunt and art show at Red Hook Art Project.
Cost: Tastings start at 4 tastes for $20, and 11 tastes for $50.
See the Menu
Bike the Red Hook Crawl
We're proud to partner with the Red Hook Art Project for phenomenal cuisine and free community fun and art. Tickets now on sale at Red Hook Art Project, Red Hook Winery, San Pedro Inn, Sunny's Bar.
Thank you for supporting the Earth and our city's children at Seeds in the Middle
Tastes of Carroll Gardens
Saturday, Nov. 4, 2-6 PM
Who's in so far
Check out our past events!
Contact Us
All Tastes of Brooklyn events support Seeds in the Middle, a charity empowering students, schools and their communities in food deserts to create affordable, nearby access to fresh fruits and vegetables and healthy choices. Seeds in the Middle on Facebook here and Instagram. Can't come? You can still give.