Let's support our Brooklyn eateries and small businesses.


Tastes of Brooklyn - 2023
Tastes of Park Slope - June 3
Tastes of Gowanus - June 10
Support local and help the charity, Seeds in the Middle, build farm stands
in Brooklyn's food deserts so everyone has equal access to fruits and vegetables.
Buy tickets here for Park Slope or just donate if you can't come
EAT DRINK ART DO GOOD
Welcome to our 2023 events. We opened the season with the widely popular Franklin Avenue Festival and Tastes of Bed-Stuy in partnership with Brooklyn Celebrity and Brooklyn Art Walks. For May, we return to the diverse, artistic, eclectic neighborhood long the Gowanus Canal.
We are incredibly grateful to all the chefs, restaurants, bars, bakeries, ice cream shops and boutiques who joined us throughout the pandemic and now. Let's continue supporting them!
Eat, sip and do good across Brooklyn, walking and exploring culinary gems at our Tastes of Brooklyn food and drink crawls.
At all our Tastes of Brooklyn events, enjoy restaurants, bars, food establishments and more small businesses in our culturally-rich, trendy, diverse artistic corners of Brooklyn, plus our pop-up Hip2B Healthy Market run by kids. Create your personal food and drink tour. Each ticket has 4 tastes and you can choose any of the array of participating establishments. Share tickets with friends. Explore our map and menu and choose which delicious establishments to visit. See the Tastes of Park Slope map of participating places here and the ?Tastes of Gowanus map of participating places here and know - as you enjoy the exceptional culinary talent in Brooklyn - that you are supporting children creating healthier places to live and learn.
Eat. Drink. Walk. Art. Do Good.
Your purchases support our local businesses but they are also helping Seeds in the Middle expand school-run farm/flea markets, gardens and Hip2B Healthy cafes to erase food deserts in central Brooklyn. Vendors, independent chefs, more small biz welcome!
Our fundraising goal this year is to help up to 18 schools in central Brooklyn's lowest income neighborhoods overcome food insecurity by creating their own healthy businesses while boosting academic achievement and student change-makers as well! See Seeds in the Middle's map here of where we are and the schools who have asked for us.
Savor the entrepreneurial, delicious food and drink talent of historic, majestic neighborhoods. Pop-up flea market under development. Vendors, independent chefs, artists, email us at tastesofbrooklyn@gmail.com.
Be a culinary explorer again. Let's boost businesses and healthy kids together.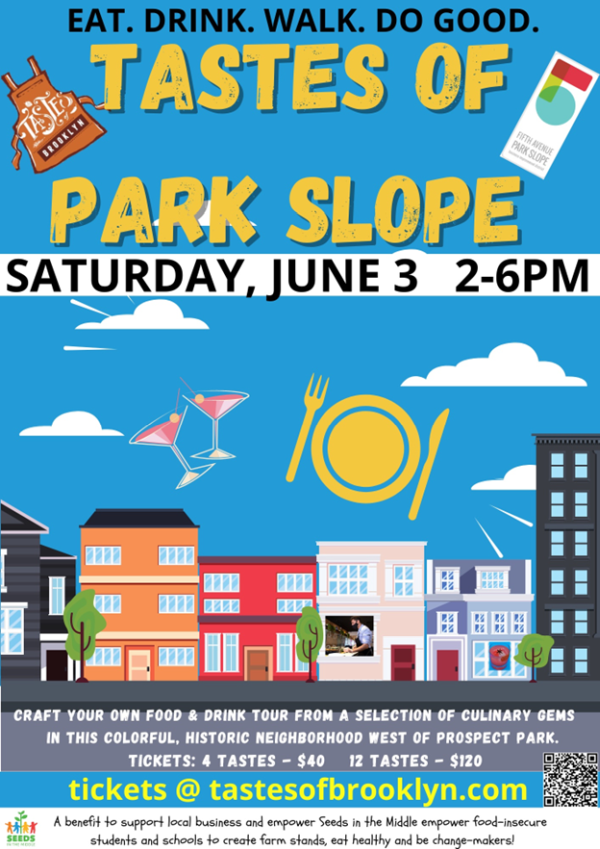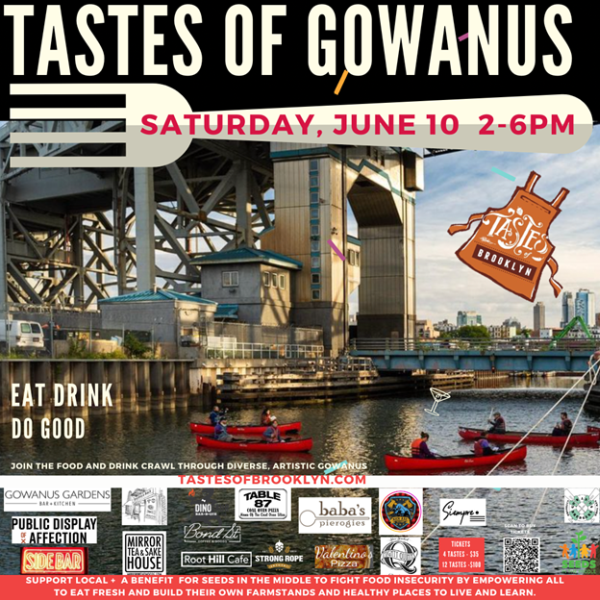 Questions? Call Nancie at 862-701-3858 or email tastesofbk@seedsinthemiddle.org
Tastes of Brooklyn and Seeds in the Middle are proud to support local - keeping alive the vibrant small businesses that make NYC such a rich place to live. They give to us and we support them. Thanks to the restaurants, bars, chefs, food establishments, distillers, foodies, artists and vendors who are making Tastes of Brooklyn crawls rock! Follow us on Instagram and Facebook to get updates or get on our email list at tastesofbk@seedsinthemiddle.org.
Enjoy an excerpt of past Tastes of Brooklyn events.
Tastes of Brooklyn from DigitalTechCINEMA on Vimeo.
Tastes of Park Slope
Saturday, June 3, 2-6 PM
Tastes of Gowanus
Saturday, June 10, 2-6 PM
Who's in Park Slope
2023 events!
Check out our past events!
Contact Us
All Tastes of Brooklyn events support Seeds in the Middle, a charity empowering students, schools and their communities in food deserts to create affordable, nearby access to fresh fruits and vegetables and healthy choices. Seeds in the Middle on Facebook here and Instagram. Can't come? You can still give.